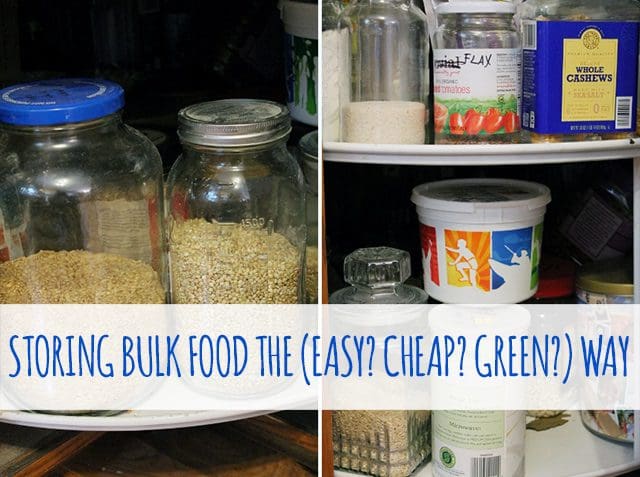 You should be scared.
Very scared.
Visiting my basement isn't all the bows and rainbows you might think!
I'm not a master at food storage by any means, but I do buy a LOT of food in bulk to save money and get the healthiest options I can find for my family, and I think I do a couple things right.
I hope you enjoy my post over at Life Your Way today, where I'll share my successful tips, a few mistakes, and a major disaster last fall that you and I both can learn a lot from:
Buying food in bulk and preserving from your garden and farmer's markets is as an awesome way to save money and capture maximum nutrition, but there's even one more reason to love those frugal habits: they reduce waste and help save the earth, too.

A 25-pound bag of dried beans uses far fewer packaging resources than 25 one-pound plastic bags, and the cans and shipping weight/fuel saved by making your own beans from dry has to be significant. In my household, all the bulk foods I buy also save me numerous trips to the store, since I almost always have food in the house for plenty of meals without having to drive my van around and create pollution.

The last piece of the puzzle, then, is how to store bulk foods in the safest way possible, both to keep the food from spoiling or getting eaten by critters and to protect your family from potential leaching from questionable materials.

Readers often ask how I store bulk foods, and it's probably not the best way to start a post but I'm going to be honest here: I really make it up as I go along and may not have the most efficient or perfect system. However – if you want to store your bulk foods frugally, I think you'll find some nuggets of ideas in my basement. (You can do it "your way" in the true spirit of this site!!)
Read the rest at Storing Bulk Food the (Easy? Cheap? Green?) Way…
Note: If you need the pantry moth traps – and every home should have a few, trust me!!! – this is the brand I bought on Amazon and probably need to reorder about now…
Thanks to Our Sponsor, Plan to Eat!
I want to take a minute to give a hearty, well-fed "thank you" to one of our August sponsors, Plan to Eat. We've been partnering for years to bring you simple, online meal planning and even a special KS group over there with over 140,000 searchable, plannable real food recipes from KS readers only. How cool is that?
Actually, what's even cooler is the newest feature of Plan to Eat: Prep Notes.
It's something I've suggested since I first signed on for my own 30-day free trial, and I am so geeked to be able to automate things like "soak dry beans" and "thaw roast" and even "prep homemade cream of chicken soup" for recipes. We love automation at our house!
Let me know what you think of the new feature if you're a PTE user already, and if you sign on for the 30-day trial, I can't wait to hear what you think as well!
Disclosure: There are affiliate links in this post to Amazon from which I will earn some commission if you make a purchase. See my full disclosure statement here.